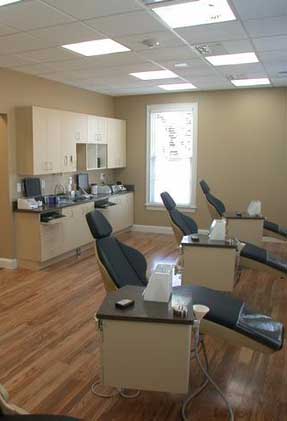 Interior
We pay particular attention to proper preparation and the best use of emerging product formulations dictated by the EPA VOC regulations. Spectrum is committed to being as "green" as possible. We provide wood staining and clear coating. We are experts at trouble shooting failing paint conditions from the use of substandard (builder's flat) paint. Interior services for commercial properties consist of Acoustical ceiling tile dyeing that does not affect fire ratings or acoustical properties, painting of all types of surfaces and installation of commercial grade wall-covering.

Exterior
We perform pressure washing with biodegradable environmentally responsible agents and application of siding stains and paints. All projects are best served by a field survey to determine the type and condition of the current coatings in order to recommend the best course of action. Complete siding installation, replacement of doors and windows by licensed and state certified personnel is available as well. Our commercial venue consists of a variety of office, retail, financial and medical facilities entailing high performance and architectural exterior coatings.

Restoration
Restoration services run from rot repair by means of component replacement of trim and siding to wooden double hung window refurbishment to in house milling of accurately reproduced architectural trim. We provide authentic restoration to ensure architectural integrity.